Wearing my sparkly pink beaded kimono shoes...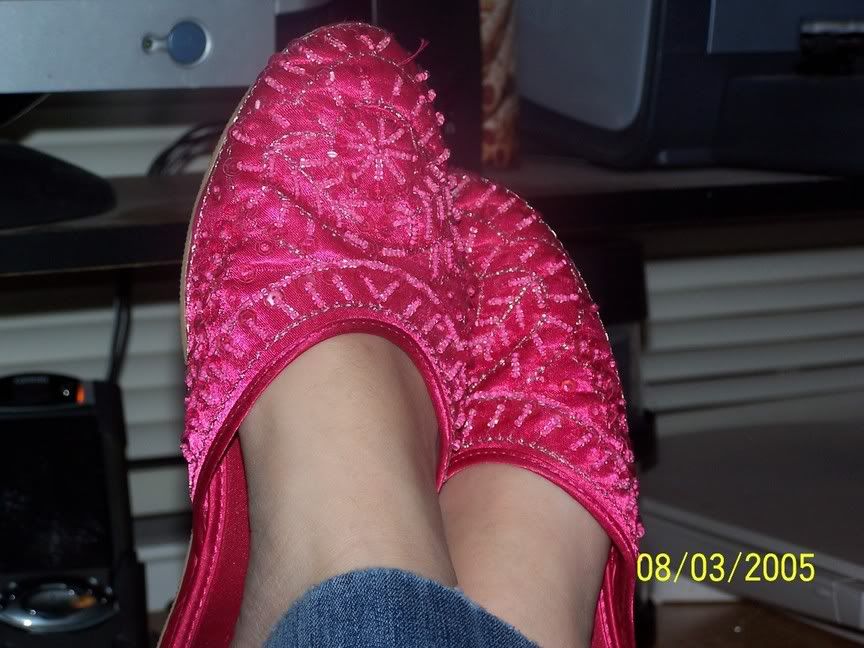 Listening to old CD's (Puddle of Mudd, the Clueless Soundtrack, Chili Peppers) I think the lead singer of Puddle of Mudd is Kurt Cobain reincarnated.
Trying to decide what to do with my hair...Highlights? Chunks? Really blonde? Blonde with some red? Layers so I can flip out like Farrah Fawcett's? I refuse to cut it. I want hair like K La La's...long hair. Sean would go NUTS (in a good way) if I had that hair...that is my goal. But can I afford the shampoo and conditioner to maintain that?
Being grateful even for the little things. (I've been listening to Anthony Robbins)
Daydreaming about Phoenix...what my new place will look like, the things the boys will experience, hanging out with Meg & T, a new job, accomplishing my goals.
Excited because my little Judie-Scoot will start soccer in a few weeks. Yay! His first ever sport...how the hell am i gonna deal with the heat? I am NOT an outdoorsy person. But for him...anything.
Drinking a diet coke.
IMing KeRRy*LyNNe and discussing baby names.
Thinking about how cute Bing will be when his hair looks like this.


Trying to call my husband and tell him to wake up..its 1030...im scared to death to listen to the answering machine messages.
Talking to my boss...about EVERYTHING. She's wise. and she's only 30!!!
Thinking of what to do for Kristina's ROCKING Effer Dare #2...Yep I know what it is...JEALOUS MUCH?
Typing in my blog when I'm supposed to be working.