I am a soccer mom.
Julian's mom has got it going on.....
She's all i want, and i've waited for so loong........
Sorry. I can't get that freaking Dr. Pepper commercial out of my head. The one where the mom pulls up to the soccer field in a mini van, and the wind is blowing...and she's wearing a vest, and Keds, and those ankle socks with the little balls...and she clicks the remote and the van door slides open and its a chest full of Dr. Pepper....love it.
Today is Jude's first soccer game. He is playing against Taco Bell...yum...anyway. He is going to look SUPER DEE DUPER sharp in his new uniform. Electric green and black...and he is #1. Just like his momma was in vollebyall. I have to bring oranges and a drink of choice. I feel so PTA like. So responsible. So mature. Never mind that I will be on the sidelines making fun of other parents...
I hope jude does well...and has fun. I really hope he remembers the golden rule that his daddy has been trying to teach him since he started practice. Its such a true, true life lesson, and if he can remember that...he will be just fine.
Its not whether you win or lose son, but how good ya looked.
Two wise ladies said that I might need some PINEABU (malibu and pineapple juice) to help get me through the games. The other obnoxious parents, the coaches, the refs...i will find out today just how true that is.
GO CHEMTURA GATORS!!!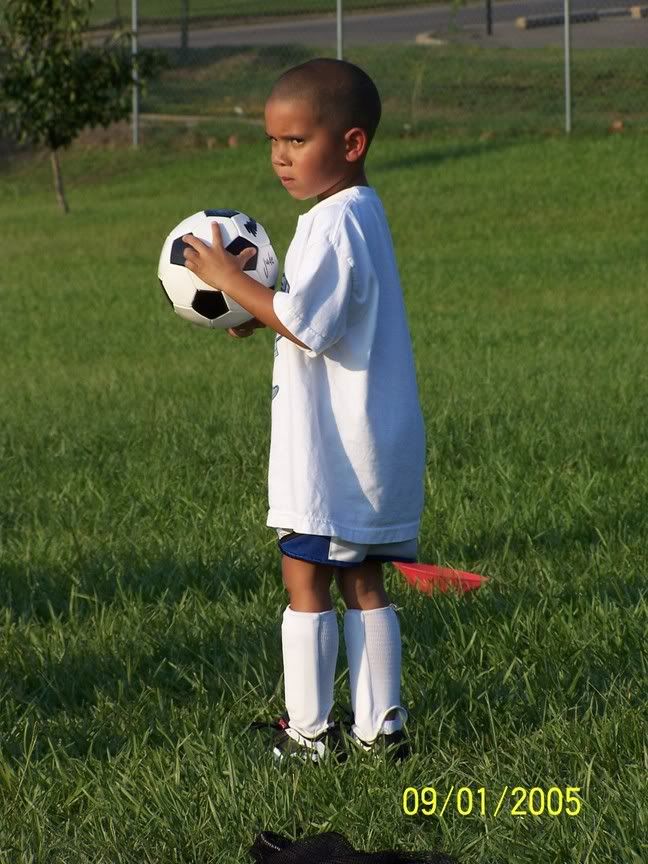 and for the record..he is fully aware not to touch the soccer ball with his hands. I snapped this when it was a water break...and they had to bring their balls to their center of the field.