So all you chicks that think that YOU have the best, coolest, funnest husband...Well think again.
Ole Sean boy has become a pea. Yes siree Bob. I'm not kidding. Monday night he says " I wanna scrap"...and I was like "Let's do it then..."
So its Me, Sean, and Jude all at the kitchen table just a scrappin' away. Stuff Everywhere.
It was so wierd. I mean talking to him in a language that only a fellow scrapper would understand. Saying words like cluster, goodies, Heidi Swapp, and dab it. I mean imgaine it...me and my husband sitting there just scrapping away.
And he rocked his page!!! He exactoed a flower from patterned paper! He used three different colored inks...he did a rubon...he used photo corners...he picked his own colors...his own picture...and he rocked it! I am so proud of him. What a treat...me, sean john silver, and jude all sitting there doing something that is so near and dear to my heart.
And not only did he scrap...he wanted to become a pea so he could post it. He thought about Pea-rental Guidance but opted against...again so cute that he was thinking what pea name should i be?
And jude inspired my latest layout... Grammy
That was definitely fun. Babe if you are reading this...I had a blast...and I still want to be the first husband and wife team to hit the scene!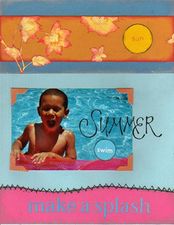 Leave him some praise ladies...he deserves it.
Sean's Gallery