As a kid, I used to flip all the way to the back of my Babsitter's Club books to see what happened in the end. STUPID I KNOW. The reason for my telling you this is that surprises KILL me. They do. So when I came into the kitchen this morning to leave for work and saw that my lunch was made for me, I ripped past the turkey sandwich neatly sliced into two triangles, and the baked cheetos, the perfectly folded napkin that only a former waiter could fold, and the diet cokes...i was looking for a treasure. I knew he would put one in there if he had made my lunch. And sure enough he did...and this is what it said. I had to go wake him up with tears streaming down my face to thank him.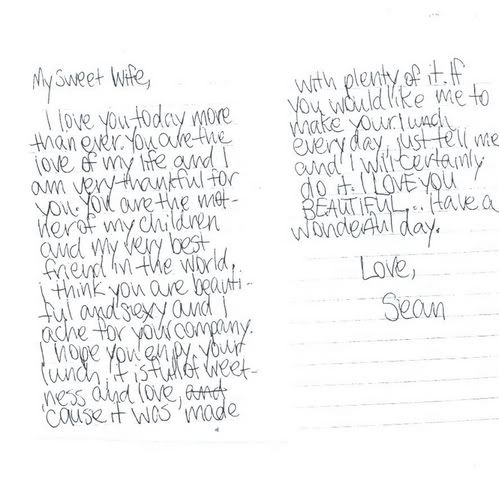 I think it was that I was so stressed out about Effer Dare #5....pushed him to write this. You will see what I mean on Friday Morning.

This note is EXACTLY what I needed. I love that man. I love him for constantly letting me know whats on his mind...whether its shut the f*ck up and just pick a color of cardstock or thanking me for having his children.
I feel incredibly lucky. INCREDIBLY lucky.
And a little off the subject...i LOVE kanye west's new song golddigger. I love Kanye West. I am not a HUGE rap fan. I don't like hearing about sucking on something like a lollipop, or pulling your pants down a little bit, or all that jazz...but kanye has a GOOD message. He is a positive individual. So me likes him. And Jamie Foxx singing on the track, and sounding just like Ray Charles doesn't hurt. I changed my video to his "Through the Wire"...its freaking awesome too.
Have a good Thursday ladybugs.
a