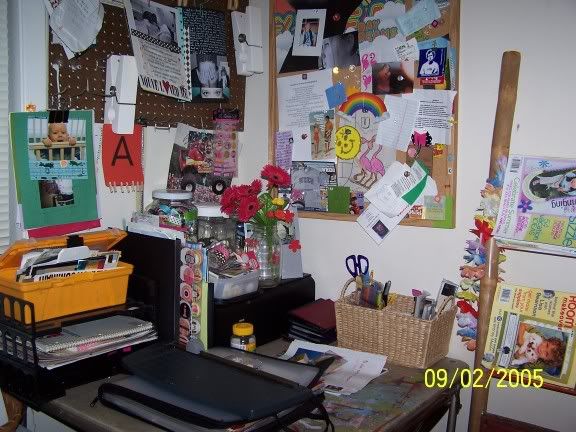 I spy Julian and Sandler's Gummy vitamins....
I spy a lei from Bing's Party...
I spy 25 cent gerbera daisies from a yard sale...
I spy Christina Cole goodies peeking out...
I spy Napoleon GOSH!!!!!!!!!!!
I spy a note from Gabby, a scary card from Amber, a card from Tia, an "A" from Meggers, Mullet Gum pack from Missy, and flamingos from Kerry.
I spy an impossible to dig through ribbon jar, that smells like pickles when you open it, no matter how many times i wash it...
I spy an effer circle journal that is still incomplete.
I spy some NEW OLD school scissors...bought because of Heidi Swapp.
I spy a sh*tload of Julian's scrapbook pages...
I spy a "before" picture of me..one that I keep around to remind myself what i DON'T want to look like ever again.
I spy a picture of Jude and a world famous monster truck driver, with an autograph behind it...
I spy a big FREAKING mess.
So this is it folks...this is where the magic happens...(I HATE WHEN PEOPLE SAY THAT ON CRIBS - GET A NEW LINE ALREADY) so no fancy " studio" for me, no paperracks, i don't have 50 jars for each color or pattern of my ribbon, i don't have that rad pottery barn craft island, i don't have OODLES of stuff, but its mine and its me and its filled with things I love, things from people that i love and that love me, things that inspire me, dryed up paint, and its MINE. and im grateful to have it. Its my little safe haven. My retreat. The place where I document things i would have otherwise FORGOTTEN. I just wish i could put barbwire around it to keep BING-BONG out of it...
Happy Tuesday that feels like a Monday.