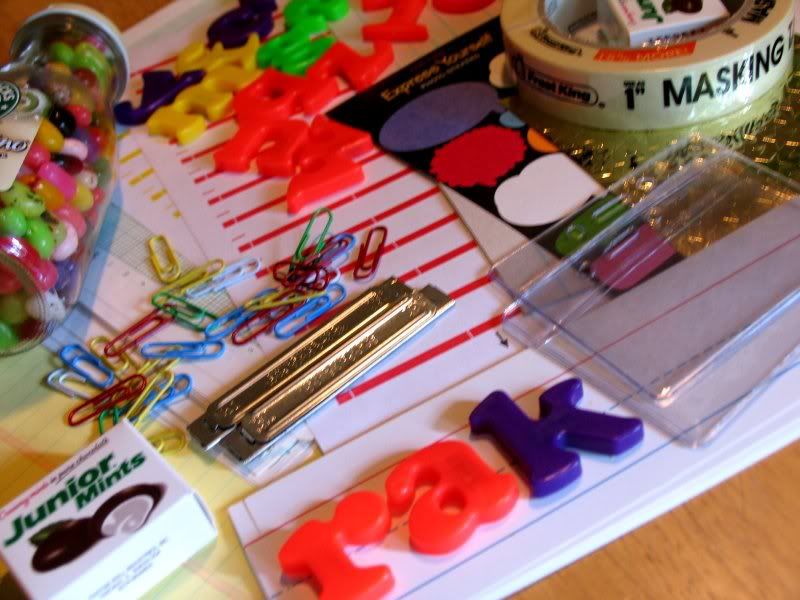 In honor of my love for The Office...
both the products and the television show...I have put together a bunch of goodies that are office/school related.
Paperclips.
Labels.
Slides.
Gold Stars.
Science Ledger Paper.
Yellow Legal Paper.
Kindegarten Manuscript Paper.
Masking Tape.
Jelly Belly's.
Junior Mints.
Clear Badge Holder's.
Alphabet Magnets.
Word Bubbles.
The strategy.
I let the boys randomly pick a page and then circle one name. Plus...i just wanted an excuse to use Julian's new double sided markers.
Winner #1 ------>SusanH.
Winner #2 ----> ANSO!!!!

This was lots of fun! I will post what the winners will receive sometime on Friday.

Gots to go pick up a bunch of goodies.

I hope you guys check out SIS if you haven't already. It is seriously amazing.

The winners are also posted
HERE
Thanks for all the great music...there are some PERFECT songs suggested that I never would have known about.

Thanks for playing girls.

Big Smooches.
xo, ash